Hugh Seenan AGSM FGSMD
A Career in Music
Hugh Seenan has been a professional musician for four decades. He has given horn and brass master classes in Australia, Denmark, France, Holland, Norway, Japan, Spain, Sweden, USA and the United Arab Emirates. He has coached the horns and brass of the National Youth Orchestra of Great Britain, the National Youth Brass Band of Great Britain, the European Union Youth Orchestra and the Pacific Youth Orchestra in South East Asia.
"A Career in Music" maps his early years as a young chorister in Scotland to his professional life as one of the UK's most distinguished horn players and horn teachers.
Musical Education
Hugh's earliest musical experience was as a member of the Glasgow Youth Choir. He joined the choir aged 5 and spent the next 9 years giving concerts with them all over Scotland culminating, aged 12, in being awarded best overall vocal prize for boy's solo vocals at the 1968 Glasgow Music Festival. That same year Hugh had his first French horn lesson at school with David Dick. He soon developed a passion for music and all things French horn and joined the Glasgow Schools Symphony Orchestra and in his final two years at school was given a place as a Junior Exhibitioner at the Royal Scottish Academy of Music and Drama where he studied horn with Christopher Griffiths.
In 1974 he moved to London to continue his studies at the Guildhall School of Music and Drama. The Guildhall Brass department had an association with the London Symphony Orchestra and he began his horn studies with David Cripps (principal) and Anthony Chidell (second horn) of the LSO. His other professor and mentor was the legendary Anthony Halstead, former LSO principal horn and the English Chamber Orchestra principal horn.
Orchestral Appointments
Royal Philharmonic Orchestra - 5th horn 1976-1979
Hugh was appointed fifth horn of the Royal Philharmonic Orchestra aged 20 while still a third year student at the Guildhall School of Music and Drama. While a member of the RPO he was allowed to complete his studies at the Guildhall and gain a Guildhall Associate Diploma. Hugh gained immeasurable experience working with the RPO and listening to Principal Horns Jeffrey Bryant and John Bimson, two of London's finest horn players.
(Royal) Scottish National Orchestra - Principal Horn 1979-1984
Hugh moved back to Glasgow, Scotland, in 1979, to join the Scottish National Orchestra as principal horn aged 23. This gave Hugh the experience to play both the orchestral repertoire with the SNO and operatic repertoire with Scottish Opera.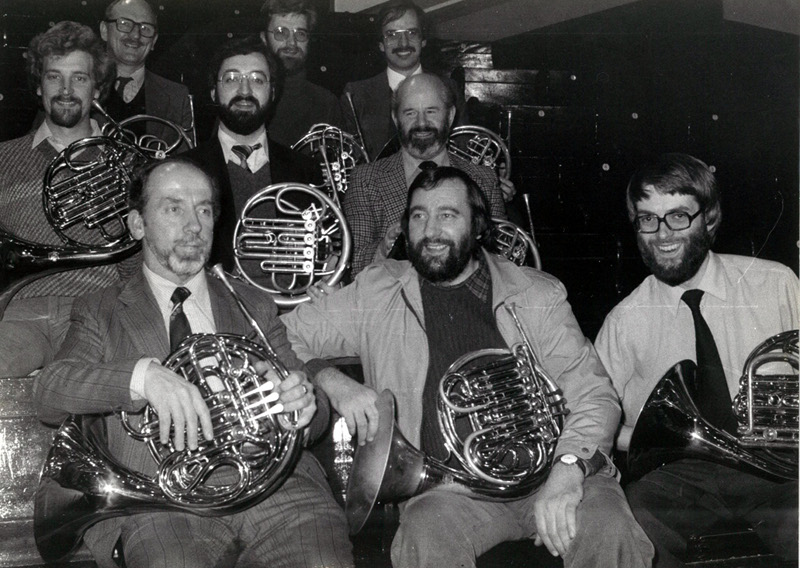 London Symphony Orchestra - Principal Horn 1984-1997
Hugh moved backed to London in 1984 to join the LSO as principal horn. In the 1985-1986 season the LSO performed a complete Mahler Symphony Cycle conducted by LSO Principal Conductor Claudio Abbado at the Barbican Centre, Royal Festival Hall and Royal Albert Hall. Abbado was succeeded by American Michael Tilson Thomas and latterly by Sir Colin Davis. Highlights of this period include recording the complete works of Ravel with Claudio Abbado for Deutsche Grammophon, a live televised performance of Richard Strauss's Ein Heldenleben and Till Eulenspiegel for the BBC conducted by Michael Tilson Thomas (ICA Classics DVD) and recordings of all the symphonies of Sibelius with Sir Colin Davis (RCA Records).
Hugh worked and recorded with many of the world's finest conductors in this period including Leonard Bernstein, Pierre Boulez, Mariss Jansons, Rafael Kubelik, Seiji Ozawa, Andre Previn and Sir Georg Solti.
The LSO performed a huge range of repertoire and styles. Hugh recorded film scores with many of the world's top film composers including John Williams, James Horner, Jerry Goldsmith and Henry Mancini. The LSO principal players performed regularly with the orchestra as wind soloists and Hugh performed Mozart's Horn Concerto No. 4, concertos Nos. 1 and 2 by Richard Strauss, the Britten Serenade for tenor, horn and strings and the Schumann Konzertstück for four horns with the LSO horn section. The LSO Brass gave many concerts and made several recordings conducted by Eric Crees.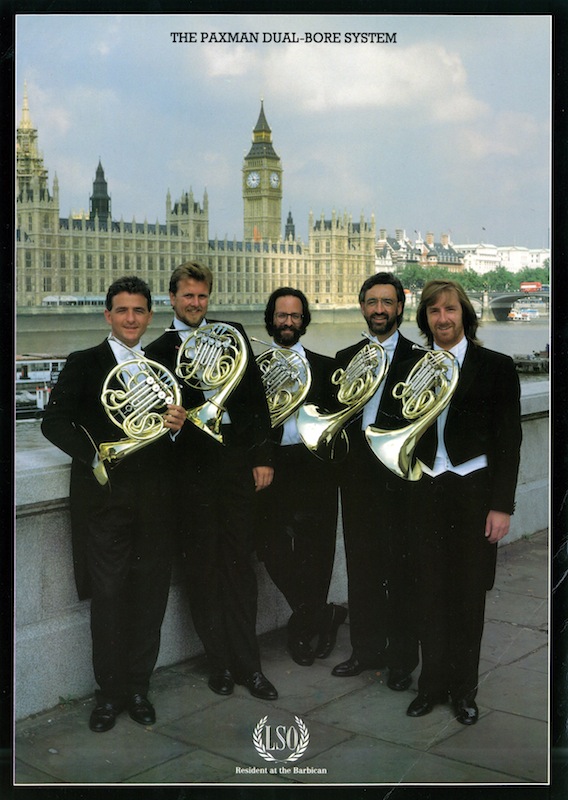 Guildhall School of Music and Drama
Professor of Horn 1985-2012
Hugh was a professor of horn at the Guildhall for 27 years with professors Jeffrey Bryant, Richard Bissill, Jonathan Lipton, Anthony Halstead, Andrew Clark, David Pyatt and Roger Montgomery. The Guildhall School at the present time has a world class reputation for producing top professional horn players. The Guildhall has produced horn players who are now members of most of the finest orchestras in the UK and as far afield as the Berlin Philharmonic Orchestra, Swedish Radio Symphony Orchestra and the RTÉ Concert Orchestra, Dublin.
Hugh was made a Fellow of the Guildhall School in 1999.
Guildhall Horn Soloists recording session 2005
In 2005 Hugh produced a recording for Cala Records "The Guildhall Horn Soloists" This recording features solo performances with the Guildhall horn professors and the Guildhall horn ensemble. This recording includes a performance of Richard Bissill's "Time and Space" for two horns and piano performed by David Pyatt and Hugh Seenan on horn and Richard Bissill on piano. At the Guildhall recording sessions a special guest, Barry Tuckwell, was in attendance.
Guildhall School of Music and Drama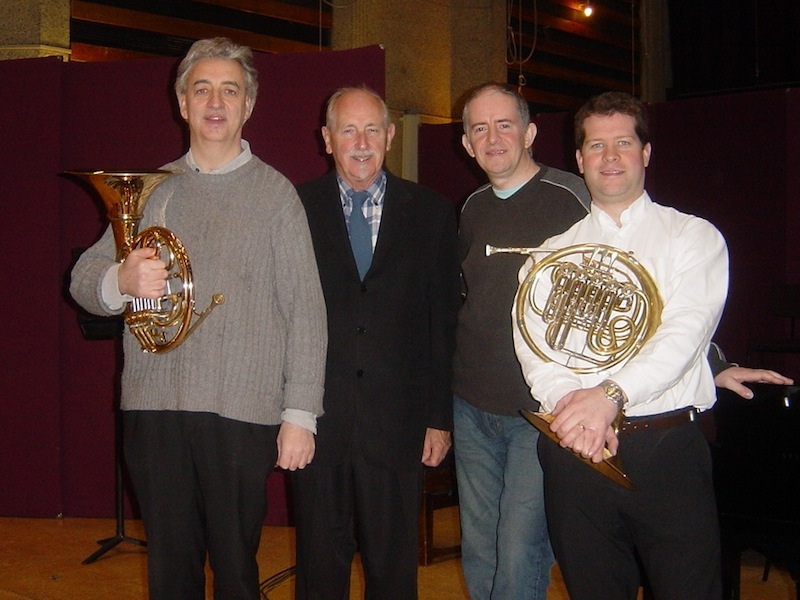 British Horn Society
Honorary Chairman 1999-2005
The British Horn Society is a registered charity which promotes the horn in the United Kingdom through its BHS web site, magazine, concerts and education projects. Hugh was a member of the BHS committee for eight years and honorary chairman of the BHS for five years. In his period as chairman the BHS gave horn festivals in Scotland, Wales and England culminating in a three day horn festival at the Guildhall School of Music and Drama in London in 2005 to mark the 25th anniversary of the BHS and the 125th anniversary of the Guildhall School. Hugh was made an Honorary Member of the BHS in 2006.
London Film Studios
Hugh has recorded many film scores with the LSO and in the London Film recording studios, including principal horn for the movies Aliens, American History X, Braveheart, Cutthroat Island, Gladiator, Legends of the Fall, North and South, The Mask of Zorro and Willow, and he recorded music from E.T., Jaws and Star Wars with the LSO conducted by John Williams for Sony Records. In 1998 James Horner invited Hugh Seenan to Los Angeles to record his score for the film Deep Impact with LA studio horn player James Thatcher.
The London Horn Sound
"The London Horn Sound" (1999)
In 1998 Hugh approached Cala Records director Geoffrey Simon with a view to making a London Horn Sound recording as part of Cala Records' London Sound series. New horn ensemble arrangements were composed for the occasion and 32 of London's top horn players assembled at the famous Abbey Rd studios over three cold days in January 1999. When the album was released later that year it caused a sensation throughout the world's horn community and went on to become one of the bestselling horn albums of all time.
London Horn Sound on Cala Records
The London Horn Sound "Give It One" (2007)
The sequel to the first London Horn Sound recording had been on the cards for many years and the original recording had spawned many others including an album by the Vienna Horns. Hugh and Geoffrey therefore decided to try something completely different as a sequel to the first album and "Give It One" was born. The first ever French horn Big Band including a large horn ensemble with 5 horn jazz soloists and piano, bass and drums. The piano solos were taken by the magnificent Gwilym Simcock, himself an accomplished horn player. Gwilym also provided some of the arrangements and original works for the album, along with others by Richard Bissill, Tim Jackson and Jim Rattigan. The sessions really pushed the London horn players to the limit of what is possible on the French horn and the results produced music and performances in a completely new horn idiom.
The Symphonic Brass of London
Hugh is a member of The Symphonic Brass of London. This ensemble comprises of some of the UK's finest brass players. Its unique combination of excellence and mastery of varied styles has created an extraordinary brass ensemble whose musical flexibility is second to none.